From the July 2019 Lessiter Link newsletter
On July 11, Kim Schmidt, Executive Editor & Intern Coordinator, and Mike Lessiter held a group "book report" discussion on What the Heck is EOS (Entrepreneurial Operating System)? The meeting was lively with questions and observations pertaining to EOS and generated feedback from the interns on how they've seen the system in action.
The discussion concluded with a "to do item" requiring quick action and a meeting rating.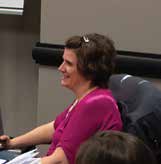 Participating in the discussion with Kim and Mike were Summer 2019 interns (clockwise from left) Betsy Barthelemy, Melissa Martincich, Jonny Salinas, KC Hubbell, Jeff Wardon and Bekah Lindner. The group expressed appreciation for getting their own copies of the book and gaining familiarity of the EOS structure that is growing throughout the business world. The interns related how valuable the weekly meetings with Kim have been and shared experiences they've received through meaningful projects.
Kim is accepting applications now for fall internships and beyond. If you know of a recent grad or one who can commit to regular hours during their collegiate schedules, contact Kim at kschmidt@lessitermedia.com.