By Frank Lessiter, Chairman
From the Lessiter Lore column of the September 2019 Lessiter Link newsletter
An 'all hands on deck' phone call campaign brought hundreds of farriers through the doors for the first International Hoof-Care Summit in 2004.
In June 2003, the decision was made to launch the International Hoof-Care Summit (IHCS) in Cincinnati in February 2004. A full-page promo piece in the July/August American Farriers Journal listed 10 reasons why this event would be different than any other event farriers had attended in the past.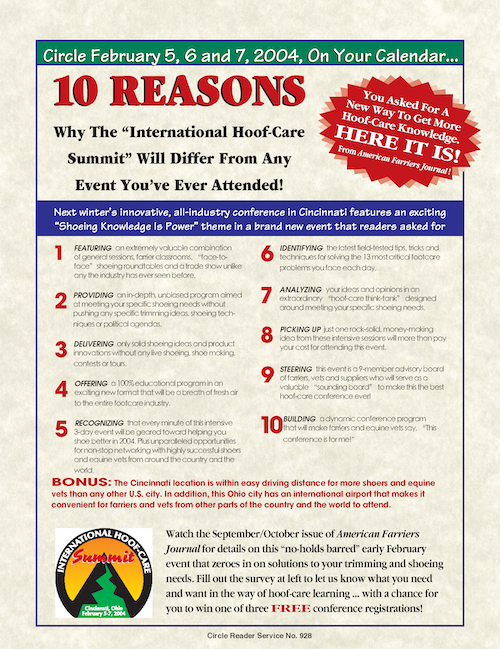 Plenty of IHCS promotions took place over the next seven months featuring the usual magazine promos, direct mail and so forth. But by early January, registration numbers weren't what we had anticipated.
So, What Did We Do?
We concluded that we had to get on the phone and talk with farriers who hadn't yet registered. All staffers were assigned farriers to call to encourage them to register. After leaving voice mail messages for a number of the farriers on my list, I was pleasantly surprised to see that many called back, saying they were coming but still needed to register.
The following week, everyone on our 10-person staff was handed a printout of names and phone numbers, with a little competition. The prize went to an unlikely source, an introverted editor who hadn't wanted to make a single phone call. But he delivered, as did other staffers. That first IHCS ended up with more than 500 attendees from 40 states and featured 76 trade show booths.
A repeat of this experience took place earlier this summer. Again, getting on the phones made a difference in final attendance numbers.
Refusing to simply sit on our hands and do nothing when projects aren't going well has been part of our success over the past 38 years. When we tackle problems head on, we make a difference.