By Alison Green, agreen@lessitermedia.com
Email Specialist, Lessiter Media
In our previous Marketing Minute, 5 AI Copywriting Strategies for Marketers, we shared ways to automate your copywriting. While artificial intelligence tools are a game changer in the marketing world, it is also an equalizer. If everyone is generating content based on the same search engine results, you can bet the originality of content will diminish. Heading into the future of AI advancements, our job as marketers will be to differentiate our content by infusing humanness back into our messaging.
To do that, we must focus on the hallmark of humanness — emotion. As marketers, our greatest advantage against machine learning is emotional intelligence. AI can't automate feelings within yourself or others (or at least not yet).
In this 3-part series, we dissect how to leverage the science of hormones to write marketing copy that gives your audience "all the feels," as the kids say. Based on the Tedx Talks video, The magical science of storytelling, we break-down the intimate relationship between your messaging and the creation of dopamine, oxytocin and endorphins.
Copywriting for Motivation & Memory (Part 1)
To begin, let's take a look at the effects of dopamine. Stimulating the production of dopamine will motivate your audience to take action. Memory is also strengthened when dopamine is present, keeping your brand top of mind. The infographic below describes ways to spark this emotional response from your copywriting.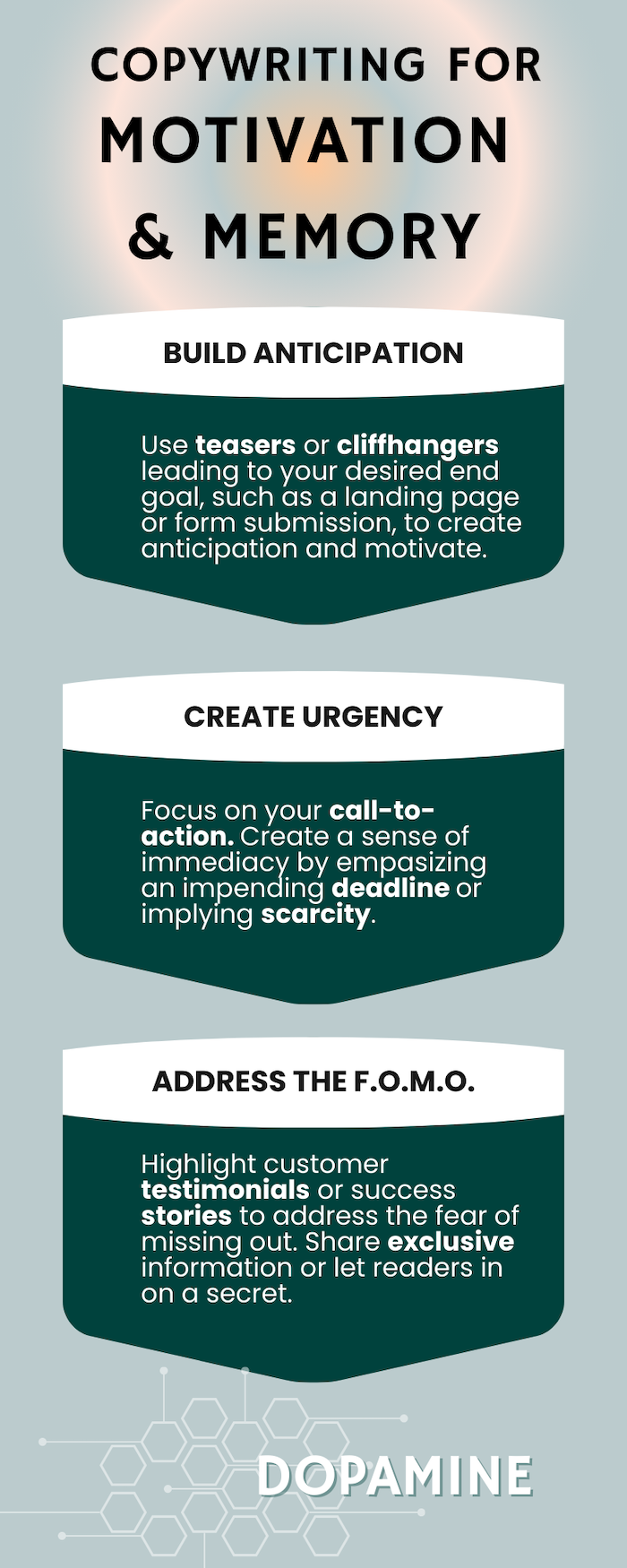 Copywriting for Hope & Trust (Part 2)
Since Part 1, I can't count the number of times my attention has been pulled from alarmist articles about AI's potentially negative impacts to optimistic tips that emphasize the expansive benefits. One impact of AI I can be certain of is the exhausting virality of the topic.
So have we opened Pandora's box? Or is this a gift? In the classic myth Pandora unleashes a barrage of negativity from her supposed gift, but what then? After ironically fueling my own curiosity, to my delight, I discovered that there was one thing that stayed inside the box — hope. Whether you are a lover or hater of the new AI tools, hope is one of the many human gifts we can give our audiences through copywriting.
Let's dive into how to give your audience the gift of oxytocin to stimulate feelings of hope and trust. The goal is to cultivate an empathic connection between your team's authentic, honest experiences and the individual human beings that exist as part of "your audience." When a reader feels empathy and can connect your brand with what they know to be true, they unconsciously learn that they can trust your brand. The infographic below details ways to foster empathic copywriting skills.
Copywriting for Focus & Stress-Relief (Part 3)
We conclude our exploration of the intimate relationship between your messaging and the creation of hormones with endorphins.
The release of endorphins leaves people feeling focused with a sense of stress-relief. Eliciting laughter is one of the best ways to produce this effect. By weaving a joke into your marketing message, you can position your audience to feel more willing to engage and experience greater enjoyment through the decision-making process.
With Father's Day this weekend, the advertising world is leaning into 'Dad Jokes,' like the one below, but are these groan-worthy, predictable jokes enough to sway your audience?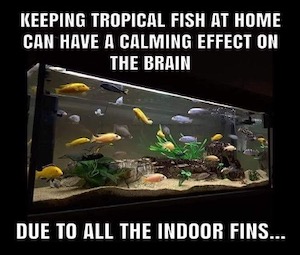 Humor is complex and requires a deeper understanding of emotion. Fortunately, the emotive nuance needed to elicit a good laugh gives human marketers an advantage over artificial intelligence. Now don't worry, you don't have to become a stand-up comedian to craft a well-received joke, all you need is some emotional awareness and common sense.
It is important to note that not every message should be humorous, there is a time and a place for humor. You can identify the right delivery based on your intuition and the guidelines in the infographic below.
If you need help finding the right balance to make our audience laugh, our team can help you get to a message that will resonate and achieve your goals.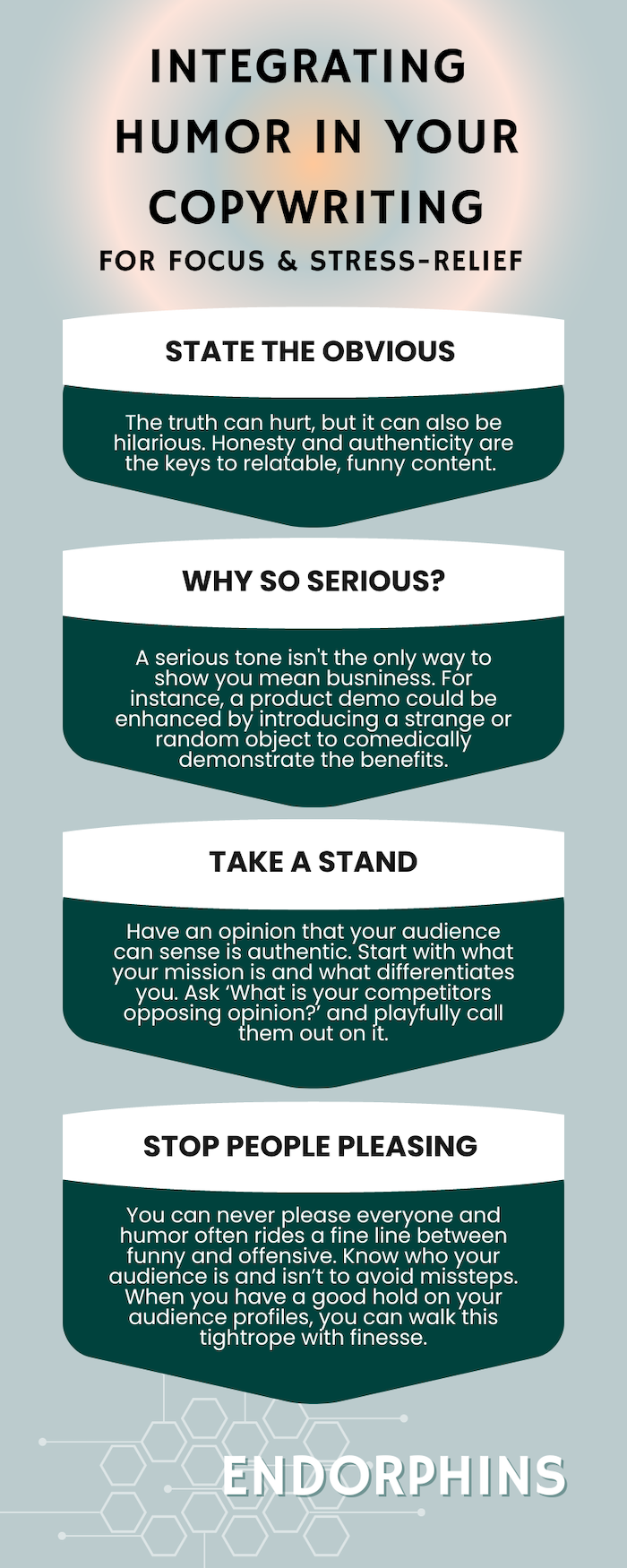 Source: Tedx Talks, Doan Copywriting, Sweet Fish Media