From the July 2019 Lessiter Link newsletter
President Mike Lessiter went "back to school" at UW-Milwaukee for a semester-long course on documentary production last January to May. He enrolled in the course as he prepares to direct a documentary series on family run manufacturers in the farm equipment business.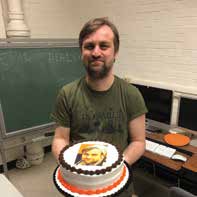 Several hundred hours of video were collected during 24 interviews for the "How We Did It" podcast series that ran in 2018. Sierra Wolff, Joe Kuenzle and Jeff Lazewki have all been collecting vintage photos and videos from the 24 subjects, and freelancer Linda Braus has organized content thematically with the goal of a pilot episode produced in 2019.
Pictured above is Mike with his undergraduate classmates. At right is documentarian and instructor Emir Cakaroz, from Turkey. The cake depicting his face was one of many uncomfortable exchanges as Mike helped his instructor understand sarcasm and American business culture. Nice attempt at grade-grabbing, Mike — did it work?