By Mike Lessiter, President, Lessiter Media
From the Getting To Know column of the April 2018 Lessiter Link newsletter
Editor's Note: I've known Circulation Manager Sue Ramstack since I was 18. Years later, we shared a start date on her 2nd stint with the company in late September of 2003. Sue was one of the few familiar faces I knew when we gathered in my office for my rehearsed "new day for the company" speech to the 11 employees. Sue is the very first subject of this new standing feature in Lessiter Link. Interesting fact: Besides Pam and Frank, she has the longest tenure (20 years) of any current staff member, compiled over two stints with the company. She is also the only employee in the history of the company who never interviewed for her position (see below). 
Once her youngest daughter, Dayna, was in school, Sue (who'd worked part-time at her sister's company, at Komelon and at the Waukesha YWCA) returned to the workforce in 1986 as husband Charlie had just started up his casting sales rep organization. 
Sue was working at Farmer's Digest out of the Brookfield home of Kathy and Lee Schwanz (Lee was one of Frank's mentors in publishing). "One Friday, they surprised me by saying they'd sold the magazine and me along with it," Sue recalls. "And, that I was to go to my job at the Lessiters' on Monday."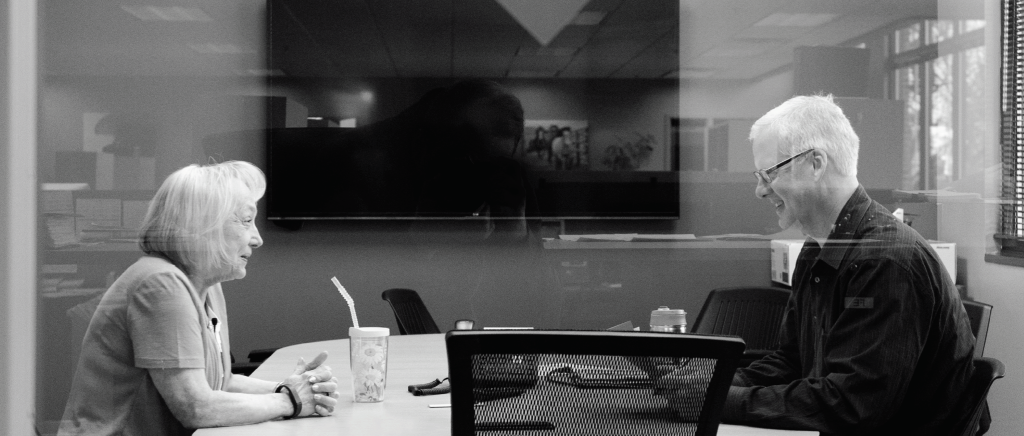 Neither Frank/Pam nor Sue had met the other. Now that's mutual faith – committing to each other sight unseen. 
"It was a shock because I'd just gotten going with Kathy and Lee. I was scared to death; I didn't know anyone. I just showed up at Regency Court (the office was on the 2nd floor of the building at the base of the hill) and said to the 10 people there, 'I'm Sue. Here I am.' It was scary. But it was also wonderful, too, because everybody was so nice." 
Sue was showed her desk (her belongings from the Schwanz home office had already been transferred) and got to work on No-Till Farmer, Rural Builder and Farmer's Digest. She worked the Rural Builder Show in Nashville before things in that segment of the business took a bad turn. Frank and Pam sold Rural Builder and the National Rural Builder Show, and Sue (still a new staffer at the time) was the only employee to survive that contraction. The company relocated into a small industrial/warehouse type space on North Hills Drive in Brookfield, in a mostly residential neighborhood. Out the back were railroad tracks, swampland and the city dump. 
"It was me, Pam and Frank, and then you, Mike, for a while. I won't go into those days," she says. 
"That was very tough, and we were going from an office to a small 2-room type scenario. A lot of times, I was there by myself. It was hard and different. But just another part of the voyage to where we all are today." 
Sue often served as the general manager in those days, including a time when Frank and Pam went to Europe for 3 weeks to recharge their batteries after that tough spell was behind them. 
"Yeah, I didn't have to make any big decisions, but I wrote the checks and handled the deposits. I handled all the circulation, Pam did the accounting and your dad would write." She added that she had to learn how to proof the publications and how to place ads by hand and review the key lines of pages – all on paper back then. "It was fun." 
I'd asked Sue to describe that North Hills office setting, which is an entirely different world than we have today. 
"It was quiet. It never felt like an office. I worked from the back room, so I couldn't see out or anything. And the trains would go by. It wasn't the best, but it was a place where we got the work done." 
The entire space of that North Hills office could have fit within today's art department's footprint. A visitor opening the metal warehouse door immediately entered a room with two desks, one for Pam (and later for Mike). Sue's office was in a windowless room separated by the supply closet that held the issues. Across from Sue's door was a wall that opened into a large office for Frank, which included a green couch from the Lessiter home (another personal item was an early 1960s record-player and radio credenza) just a few Clydesdale steins, and then a door to the hallway bathroom shared by the other tenants. 
THE 2ND TIME AROUND 

When asked if she was granted an interview on her 2nd stint, Sue laughs. She called Frank after seeing an ad in the paper and asked if he'd consider hiring her back. About 7 years passed since she'd left, but Frank told her to come in the next day. Sue went through the interview process per protocol but was told by her supervisor, after she joined, that she'd been hired before she even walked through the door. "I don't think they ever asked me to fill out an application." 

While the business has grown and now has more resources, Sue fondly remembers those days when staff knew each other on a very personal level. "It was a family and we were a very close-knit group. We had to work together a lot more because we did everything. There wasn't any 'one job;' we all had to work together to make it work. It was a much closer working environment."
For a time, the entire business was No-Till Farmer, Farmer's Digest and the start-up launch, Ridge Till Hotline, which was later closed and fulfilled via No-Till Farmer. "It was there that I got my first computer," recalls Sue of that first office, which also had a few surprise visitors ("Those aren't poppy seeds, Sue!"). "I didn't know what to do with it at first, but that was the beginning of the changeover to computerization of the circulation and eventually converting to QuickFill." 
In early 1992, Frank and Pam acquired American Farriers Journal, and a new chapter started. The office would soon require larger (and nicer) office digs and a return to Regency Court. Sue was part of all that before leaving after 7 years in 1995. 
MEET SUE RAMSTACK 

Early Years. Born in Illinois (Glenview), Sue and brother and sister moved to Brookfield in the 4th grade when her parents, Bob and Pat Bolstad, moved to Milwaukee for Bob's traveling sales manager position. Sue attended Brookfield Elementary on Brookfield Road. Attended Brookfield Central High School and met husband, Charlie, in 1970 when both were in high school. Married in 1971 and together they have 3 children: Molly, 46 (in West Allis), Christian, 40 (Manawa) and Dayna, 36 (Milwaukee). Each has helped out at the office at various times. Christian and wife, Kelly, are expecting their first child in August – Sue and Chuck are about to be grandparents! 

"I loved to ski, go roller skating and ride my bike. I loved to climb trees and played in the woods around Al Capone's old property. I loved horses and rode any chance I would get (Sue was in a riding club in junior high school). I also played the piano." At one time, she dreamt of being a primary grade schoolteacher, as she loves children.


Growing Up in the Area. "We lived in Brookfield but my mom didn't drive at first so we were stuck with wherever we could get on our bikes. I hardly knew where Waukesha was. Bluemound Road was one lane and it was lined with farms. The mall wasn't there yet but there was the drive-in movie theater." Much of what Sue recalls about the farmland where the office is today includes all the changes to Bluemound. Long gone are Elliott's Diner, Robert Hall (clothing store), Ciro's Pizza, the Lelani Hotel and Aliota's (one of her favorite restaurants, just 100 yards east of Regency Court). Her home had a pool, so there was lots of swimming in the summers and weeks spent up north tent camping. The tents evolved into a trailer and then to a motor home. Later, her parents bought a resort near Minocqua. Ask Sue about the bat-infested logging home on the property. "It was wonderful," she says. 

Hobbies: Crochet (blankets and baby clothes have been the priority – ask Michelle and Joanne), playing the keyboard (her faves include Unchained Melody, Kokomo and It's a Wonderful World) and swimming. And of course, helping out on Christian and Kelly's farm, particularly in the garden and wherever else they need her wiry strength, like residing the barn. "But Christian still won't let me run the tractor." 

Vacation Spot. Grand Cayman, where she and Charlie (and occasionally a "Girls Gone Wild" weekend) used to vacation annually. "We once owned a condo that we rented out but could still boot our friends out (of) whenever we wanted to come." 

Defining Moments & Experiences. "I'm fortunate to have had a loving family that did everything together. We still have that and get together with our cousins from Illinois. My upbringing and the importance of family and friendships define who I am more than any event."