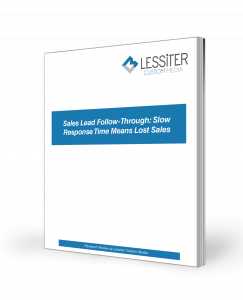 In today's quick-moving, digitally driven sales landscape, it's more important than ever that companies — and their sales managers — follow up with potential leads as quickly as possible. Buyers have an array of choices for where to spend their money, and if they feel neglected, they will likely take their business to another company. That's why it's imperative to follow up with leads and get in front of a key decision maker in as short a time as possible.
To help you avoid the most common lead conversion pitfalls and incorporate best practices into your sales follow through process, Lessiter Media has created this free downloadable guide, Sales Lead Follow-Through: Slow Response Time Means Lost Sales.
Download it now and share it with everybody in your organization that places a finger on your sales leads — from the appointment setter to the closer. Print it out, pass it out and discuss it in your next sales meeting. There's a lot of great advice and insight to help capture and convert more revenue in this critical end of year budgetary sprint.