While Lessiter Media's official birth certificate says 1981, the company's real beginning took place 18 years earlier, when Pam and Frank Lessiter exchanged their wedding vows ... and brought together deep, family-founded passions for farming, writing, photography, education and business.
Frank was the son of a fifth-generation Michigan dairy farm father and ag engineer and whose mother, a high school English teacher, influenced his love of storytelling. Pam, a business education graduate, was the daughter of an elementary school teacher and an industrial education professor. Graduates of Michigan State University, Frank and Pam met on the MSU campus, where both were employed in the university's information services offices.
On March 6, 1981, Frank and Pam hung out their own shingle upon acquiring a magazine, trade show and newsletter (with a staff of 5) from Reiman Publications (now part of Reader's Digest), where Frank was executive vice president and chief editorial director. With a new company formed at the onset of the worst farm recession ever, their first decade in business brought challenges, yet also forged and annealed a foundation for what would become a very different kind of publishing company. And principles that would serve it as it evolved still several decades later.
Through those lean years and the period of growth that followed, the name "Lessiter" (which at one time depended solely on paid-subscriptions), became synonymous with words like "actionable, meaningful, practical and relevant" for the content it delivered to its highly targeted audiences. Not fluff, not advertorials nor PR-speak, but rather unbiased, independent information that its subscribers and attendees could weigh, and act upon. "Where content becomes knowledge" began to be woven into the fabric of the Lessiter name.
The decades that followed attracted new talent, and brought launches, acquisitions, new events and digital media channels. And yes, a few divestitures, too, as the company focused on the segments in which it could most make a difference. But the content-first approach has never wavered since that day in 1981 and Lessiter Media impacted the lives of hundreds of thousands of subscribers, marketers and employees — as well as their families and ensuing generations.
The small company launched an independent, unbiased conference for farmers when Monsanto was going to control the message to farmers. It unearthed lightning-rod topics that had be addressed when others didn't want to "rock the boat" —unscrupulous practices affecting equine health, attempts at governmental regulation of farriers, and the brand purity and other "unwritten" tactics taking place in the farm equipment industry. On more than one occasion, the company elected to walk away from business rather than yield editorial independence.
"We've refused to compromise on editorial quality as we deliver practical, 'meat-and-potato' content in everything we do," says Lessiter. "This means delivering content that readers need to advance their businesses and lives. This has allowed us to achieve number-one status as the information source in each segment of the Niche Markets we serve — because the needs of the audience are placed first."
The family company is now in its second generation under Mike Lessiter, who joined the firm in 2003 after 12 years of prior trade publishing experience in Chicago. He became president in 2007 and as a second-generation ag editor, retains his editor/publisher role today. Following the firm's move into modern and new collaborative-style offices in the spring of 2015, the firm was renamed Lessiter Media to better reflect its evolution beyond only the print channel — and into social media, video, broadcast, webinars, search and mobile access.
"Any company in this business is only as good as the people who make it happen," says Lessiter. "Our group of over 40 hardworking professionals, and all those who came before whose shoulders they stand on today, have set the bar high. By working together and bringing our best every day, we'll continue to share solutions in each of the niche segments we serve."
Still residing in their same Brookfield home they've been in since 1972 and just a bike ride away from the new offices, Frank (who continues as chairman and editorial director) and Pam (retired CFO and company director) are also the proud parents of three daughters (Debbie Hansen, Susie Grabow and Kelly Fitch - all professional educators) and 14 grandchildren.
Lessiter Media's Historical Timeline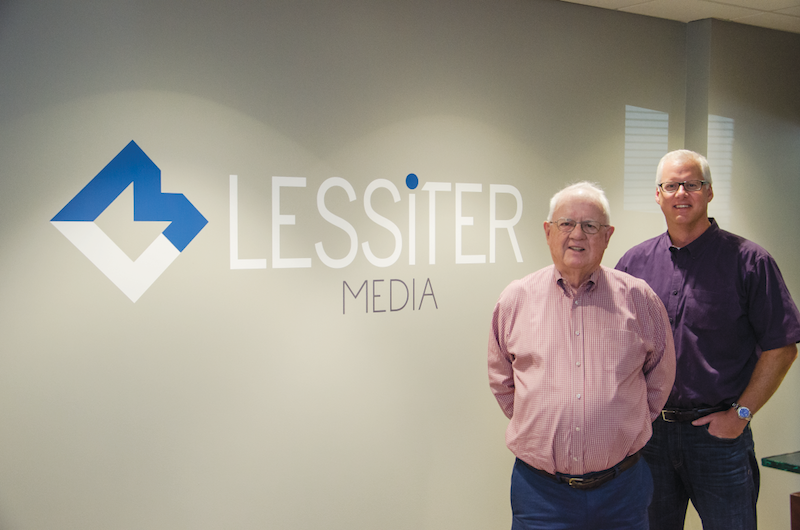 ---
Pictured Above: Lessiter Media founder, Frank Lessiter (left), and president, Mike Lessiter (right)
---
1981
On March 6 of 1981, Pam and Frank Lessiter bought Farm Building News, the National Farm Builder Show and No-Till Farmer from Reiman Publications.
1987
1989
Sold Rural Builder and the National Farm Building Show
1991
Launched Ridge-Till Hotline
Acquired American Farriers Journal
1992
Established the International Horseshoeing Hall Of Fame
1993
Launched the National No-Tillage Conference
1995
1997
Sold Farmers Digest
Established the International Equine Veterinarian Hall Of Fame
2001
Launched Gridiron Strategies
2004
Expanded American Farriers Journal to 8 editions with the launch of the Shoeing Showcase Annual Farrier Product & How-To Edition
Acquired Farm Equipment, Ag Industry Watch (later renamed Ag Equipment Intelligence) and Farm Catalog
Entered new channel with provided company-branded DVDs
Launched the International Hoof-Care Summit
2005
Launched the Farm Equipment Dealership of the Year annual award program
2006
Launched Conservation Tillage Guide
2007
Sold Gridiron Strategies
Acquired American Basketball Quarterly
Launched Rural Lifestyle Dealer
Launched the Rural Lifestyle Dealership of the Year annual award program
2008
Expanded Farm Equipment to 8 editions annually with the launch of the Industry SOURCEBOOK
2009
Acquired Coach And Athletic Director
Entered into new custom-publishing business with the AAU
Launched How To Get Started In Hoof Care — A Career Guide For The New Farrier
Relaunched all company websites on a new content management system
Launched Rural Lifestyle Dealer's eBrief electronic newsletter
2010
Launched the Strip-Till Strategies electronic newsletter
2012
Launched the Precision Farming Dealer electronic newsletter
2013
Sold Winning Hoops and Coach & Athletic Director
Launched Dryland No-Tiller
Launched English and Spanish editions of How To Get Started In Hoof Care — A Career Guide For The New Farrier
Launched first print edition of Precision Farming Dealer
Launched the Most Valuable Dealership annual award program
Launched the Farm Equipment Dealership Minds Summit event
2014
Launched the National Strip-Tillage Conference
Launched the Ag Equipment Intelligence On the Record newscast
Expanded Precision Farming Dealer to 3 editions annually
2015
Lessiter Publications became Lessiter Media
Relaunched all websites on a new mobile-friendly platform
Redesigned all e-newsletters
Acquired Implement & Tractor
2016
Launched the Precision Farming Dealer Summit
Launched the Weekly Digest email newsletters
Launched the No-Till Farmer, Strip-Till Farmer, Precision Farming Dealer and American Farriers Journal podcasts
2017
Redesigned all the Daily email newsletters
Launched the Rural Lifestyle Dealer and Ag Equipment Intelligence On the Record podcasts
Launched Farm Equipment podcast
Re-launched custom publishing initiative (video services and company-sponsored magazines)
2018
Launched Ag Equipment Intelligence standalone website and e-newsletters
Released hardcover book  – From Maverick to Mainstream: A History of No-Till Farming
Launched Lessiter Marketing Minute
Launched new publication for equine veterinarians
Released a second themed podcast series for Farm Equipment
Unveiled new sponsorship model for digital media
2019
Launched National Cover Crop Summit
Launched Dealer Success Academy
Released a second themed podcast series for No-Till Farmer
Rebranded Farm Catalog to Farm Innovations